Backdrop is a prop which is used at the back of the stage to give it an effect according to the location. Backdrops are usually used in drama, theater, photography, concerts, or any live shows. In theater, drama or any stage performance, it's made in such a way that it relates to the scene or scenery happening in the play. In photography, a long cloth is hung or else the plain wall is taken as the Backdrop according to the requirements of the photo.
Large format Printing is used so that big detailed Backdrops are made according to where it is required. It even contains a high quality print so make it look attractive. The finishing of the Backdrop is usually a matte finish. Facade stickers with 3D effect are used along with Backdrops to make it look real and no one would come to know the difference. Canvas Backdrops can give a newer look. The quality is really good and it is a strong material so it stays for a longer duration. It should be taken care of because one fold can spoil the whole thing.
Range and Styles of Backdrops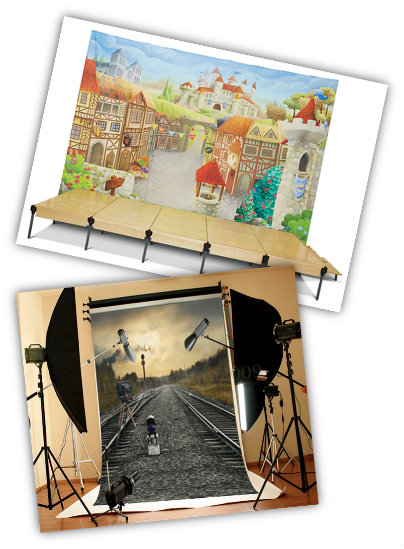 Backdrops are setup according to the situation or location where it should be used. The types of Backdrops which can be typically found in Singapore are as follows:
Stage Backdrop: These are usually used for events or any stage performances so that a live effect is given to the show that is put up in front of the audience.
Photography Backdrop: In this Backdrop, a cloth material is used which can be mostly of white, black, grey or any other colour according to the artistic effect needed for the photography. These are mainly used for photo studio which can be for models or any advertisement.
Portable Backdrop: This is an easy way to make a Backdrop as it can carried anywhere and can be put up or taken down very easily. These are usually used for business promotion, programs, or an event set up.
Backdrops At iZAPS
Once you confirm your artwork, we can give you your Backdrop within a day or two – AT NO EXTRA CHARGE.
How to Order Backdrops
Here's how to go about placing your Order –
Provide us with your design or artwork in pdf form either at our shop or via email to info@izaps.sg
We will do the final layout for you at a 1-time layout fee depending on the complexity
You will need to confirm the design and confirm for 'PRINT'
Order will be executed
Once your order is ready, we will email you
Collect your order and make payment

Large Format Printing
We provide unbeatable image quality & colour reproduction in wide format customised to your needs