Lamination
is an overlay of plastic which is transparent, flat and protective. When a material is put in a laminator it is called lamination. Once this process is done, the material cannot tear or crumble, and it can be in a matte/gloss finish. Lamination increases the quality of the product and even its durability. It is also known as a finishing type.
Binding is a process where things are held together. This is another type of finishing. Individual sheets or a bundle pf pages are kept together and binding takes place. This keeps all the pages together without losing any and it becomes a sturdy booklet.
Benefits and Use of Lamination & Binding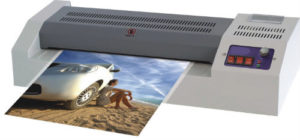 Lamination provides many advantages in paper handling. The material which is laminated, its durability increases which means it lasts longer, it gets protected from stains, dirt, fingerprint or any other markings, the appearance is high in quality giving it an outstanding outlook, it is transparent so that the material can be seen.  All this can be achieved at a reasonable cost.
Binding itself means to put together. The benefits of binding is that all the loose sheets of a specific information are kept together in a form of booklet so it is easy to refer and the sheets are not lost. Company Reports, Contract papers, Whitepapers, etc are typically bound to provide ease of reading and access to the information when required.  This also enhances the life of the paper sheets.
Range and Styles
In Lamination, there are 2 types –
Hot Lamination where in small formats are laminated on both the sides.
Cold lamination where larger formats are used, and therefore only the top side is laminated.
In Binding, all sorts of binding are done such as
Wire Binding
Spiral Binding
Book binding
Hardcover Binding
Trim & punch, and One Punch
Lamination & Binding At iZAPS
At iZAPS, we do lamination and binding and that too all kinds of binding. According to your needs, we provide a superior quality of products in front of you. Once you confirm your artwork, we can give you your lamination or binding within 2 to 3 days.

Digital & Offset Printing
Quick turn around of short run prints or high volume quality printing, we are happy to help