Stickers are special-purpose printed paper with design or artwork on one side of it and on the other side contains a strong adhesive tape which helps to stick the sticker anywhere and so that it lasts for a long duration. There are no specific dimensions in a sticker, they are done as per customer requirements as it can be customized according to size, colour and design shape.
Benefits and Use of Stickers
Stickers are used everywhere and by everyone. Starting with children who like small, colorful, cartoon characters or princesses designed on it which they put on their cupboards, lunch boxes, notebooks, and they even exchange with their friends to get other types of stickers. For commercial applications these are mostly used as a name tag or name badges, in shops for pasting on products for the price or the company's name or used while travelling as the luggage has a name sticker as to where the person is going.
Stickers are also mainstay for campaigns for helping to set up advertisements to the general public. They have a perfect finishing which come in a gloss/matte finish. It usually done using digital printing. There is a range of stickers and it can be used to one's own needs and specifications. There are bumper stickers which are mainly used as a vehicle quote sticker.
Advertising sticker are used for a promotional purpose. Stickers are also used as a marketing means for branding and packaging.
Range and Styles of Stickers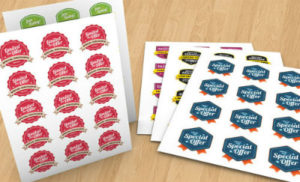 There are a variety of stickers as it used in different places for different purposes. The ones used for advertising are large in size to express a company's name and product. There are some stickers which are used as a marketing tool like to label a product with its price, product code, manufacturing date, and so on. Stickers have its own ranges and sizes as it depends for what it is required. Different materials are used and they can be laminated as per the need to ensure durability.
For Wide Format Hoardings, Stickers are high quality print stickers which have a vast size and a very large design on it. It is mostly used in malls for advertising or for promotional purposes. These mainly help the companies to give visibility to their products and attract people.
Sticker Printing At iZAPS
At IZAPS, we provide superior quality stickers.  The stickers that we provide are usable on any kind of materials, whether it is paper or cloth, porous or simply plain. It is long lasting and easy to use along with a good finishing touch.  You can choose from either matt or gloss.
Once you confirm your artwork, we can get your Stickers ready within 3 days.
How to Order Stickers
Provide us with your design or artwork in pdf form either at our shop or via email to info@izaps.sg
You will need to confirm the design and confirm for 'PRINT'
Order will be executed
Once your order is ready, we will email you
Collect your order and make payment

Digital & Offset Printing
Quick turn around of short run prints or high volume quality printing, we are happy to help