A Letterhead is a heading that highlights the organization from where it's delivered and who is the person in charge on a letter or stationery. It is usually printed on the top of the sheet entitled with the name and logo of the organization.
An Envelope is a flat rectangular paper which is enclosed from three side and the top is a flap which is opened to insert a document or any paper work inside it. The flap is sealed to insure that the papers are secured inside. Envelopes with the company's name and logo make it a professional way to meet and the way the company's communication goes on.
Usually official communication from corporate entities have letterheads on the top to assure the receiver that it from the authentic source. There are even few documents which have letterheads and those are regarding personal documentation.
Benefits and Use of Printed Letterheads & Envelopes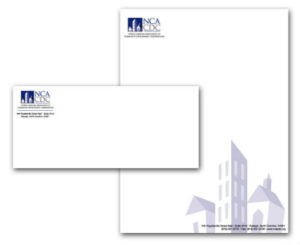 A Letterhead in short gives a brief description about the company's name, logo, telephone number, and address. By this people get the assurance that the company has an existence and feel comfortable towards the brand and product. Letterheads give a more confident and professional outlook of the company.
While envelope is like a protective paper covering that prevents important documents from getting torn, misplaced or lost. Those printed with the company livery project sophistication, prestige and image. Envelopes can be used for keeping cards, important paper work, offices papers, cash, cheques, and so on which is then sent to the specific person and handed over safely.
When a beautiful, attractive card or brochure is made, a plain and simple envelope would just bring down the entire artwork. A well designed and coloured envelope would light up the card. All envelopes need not be colourful as it depends what is inside.
Range and Styles of Letterheads
To give a more attractive and professional look, letterheads are designed in such a way according to a customer's desire, and what will give a more pleasant outlook to the company. There are many designs, dimensions, colour, and fonts available for a letter head. Depending on the purpose, it can be premium, corporate or even a business letterhead. For a letterhead to be approved, a design template is prepared to give a rough idea.
Letterheads can be made using normal 80gsm, 70gsm, or conqueror paper (which is a little more expensive).
If a letter from a corporate office or a post office arrives, it will be in a white window envelope and the window would contain the receivers name and address. A letter from a business company or even a small company will send a white envelope with their logo on it. A sealed envelope is mostly sent by courts or any high authorities.
Envelopes can come in various sizes.  But the most commonly used by organisations are the C4 size to fit an A4 paper and DL size whic h is used to fit A4 paper folded twice (top fold and down fold). Both of these sizes come in either papers window or non-window.
Letterhead Printing At iZAPS
At iZAPS, we can provide you with a wide range of Letterhead materials.  You just come out with the design and we print it for you.  It's that simple!
Same goes with envelopes too.  Any design can be imprinted on it if its required. Once you confirm your artwork, we can give you your letterheads and envelopes within 2 to 3 days.
How to Order Letterheads
Provide us with your design or artwork in pdf form either at our Shop; Email or the Online Form on this page
We will do the final layout for you at a 1-time layout fee
You will need to confirm the design and confirm for 'PRINT'
Order will be executed
Once your order is ready, we will email you
Collect your order and make payment

Digital & Offset Printing
Quick turn around of short run prints or high volume quality printing, we are happy to help